If this year's race is a gruelling test of stamina, Country Grammer looks to have a huge chance for Frankie Dettori. But, if it's a test of speed, Taiba arrives with some extraordinary talents.
Bob Baffert has his bases covered in the sense of arriving with 2 horses with quite different ways of winning the $10m prize.
In last year's race, Emblem Road largely won by starting so slowly given the excessive early pace. Country Grammer fared best of those close to that pace – hugely impressive in so doing.
Secret Ambition and Art Collector, who set such a strong pace last year, suffered home in close to 15 seconds. Country Grammer and Emblem Road were much closer to 13s. Art Collector is no slouch having just won the $5m Pegasus at Gulfstream.
Taiba is a particularly exciting horse. Few horses can win Grade 1 races over 7F and 9F while he came 3rd to the supersonic Flightline over 10F in the Breeders Cup Classic. Taiba's race at Santa Anita on Boxing Day merits a close-up look (speed graph below) since this is where he clocked a mightily impressive top speed – 44mph (speed plotted in yellow) – and ran the fastest average speed of any horse over 7F at Santa Anita this season.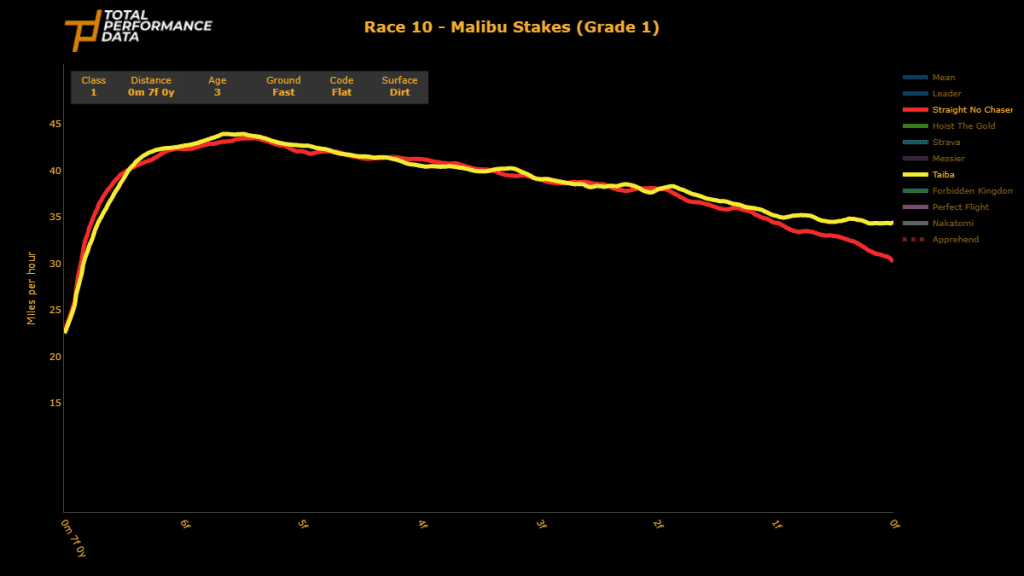 The aptly named, Straight No Chaser, broke from the stalls like one of Elon Musk's rockets and this forced the slower-starting Taiba to go pedal-to-metal to get his forward position. In staying on the pace and winning well this shows the monstrous versatility of this horse whose average speed of 39.2 mph is way above Country Grammer's 38 mph in his slightly longer race on the same day.
Dettori is drawn wide in 10 and can be hopeful of a better ride out there than he had with Mishriff last year. Mike Smith is drawn 2 with the risk that Taiba fights for that early pace and, given how fast this horse is, can he really cope if history repeats and the leader goes bonkers?
The market thinks Taiba can cope with any eventually and his data backs that up.