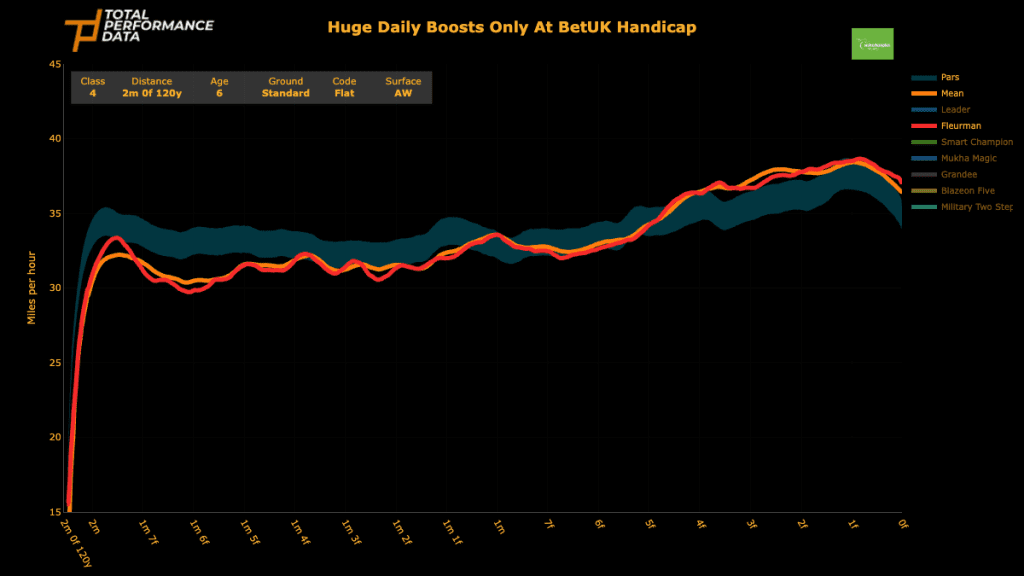 It is not often a Flat race is run over 10 seconds slower than Standard and over 13 Seconds slower than the track record, but that is exactly what happened on Tuesday Feb 7th in the 18.30 at Wolverhampton run over 2m 120yards. When you consider that 1 Second equates to approximately 5 Lengths in a Flat race, to be over 50 Lengths slower than Standard takes some doing! Though the track may been riding slow on the night, what other factors contributed to make it happen?
TPD's sectional timing data can reveal that the Bective Stud Owned, 83 Rated, Fleurman was the beneficiary of an extremely slow pace before getting up to win on the line in a race that attracted a TPD 'Race Finish %' of 114.27% (The highest of the week), an indicator that this race was not a race but a routine canter for the first Mile, until the pace quickened in the second half of the race. This was indeed a 'race of two halves' with the 14 second furlongs in the first Mile replaced by 13s, 12s and even 11s to set up a sprint finish for these Stayers. However, though the slow early pace undoubtedly suited Fleurman on the night, when we delve deeper into TPD's data we can see that two other significant aspects of Fleurman's trip helped secure victory.
Fleurman looked to be the largest of those in the Race, but the TPD data also reveals he had the longest Stride in the Race at (7.31 Metres) with the lowest Stride Frequency (2.06 Strides Per Second). This long Stride helped him cover the ground with out having to exert too much energy which he was able to conserve for the sprint finish. Also crucial to Fleurman's victory on the night was the fact he travelled the least distance of all the runners. Fleurman hugged the rail in the 2 Mile event for the entire race and travelled a total distance of 2m 95yards compared to the runner up Blazon Five who covered 2m 117yards. Quite a significant difference when you consider the winning margin was only ½ a Length!
On the basis that this race was won by what looked like the biggest horse in the race with the longest stride, maybe a Good Big'Un did beat Good Little'Uns on this occasion, but TPD can reveal he did take the shortest path to victory so well done Trainer Olly Murphy and Jockey Kevin Stott!
See full results and data at https://www.attheraces.com/racecard/Wolverhampton/07-February-2023/1830