The final All Weather Championship Fast-Track Qualifier for the Marathon Division is the TPD race of the week and yet again features our friend FLEURMAN, twice already the subject of this blog.
Although only 5 ran, this was a race with a lot going on. All runners carried 9st 6lbs and it produced a great finish with victory going to the current Marathon Champion EARLOFTHECOTSWOLDS who beat FLEURMAN a head, with ROBERTO ESCOBARR, having his first run since February 5th 2022, a neck back in third. With the All Weather Championships Finals Day fast approaching, let's see what TPD's data reveals about the story of the race.
The Official Winning Time of 3m 40.18s (Standard Going) was 5.68s slower than Racing Post Standard but compares favorably with the Average Winning Time for the trip of 3m38.98s for a Class 1 Race and 3m41.30s for a Class 2 Race at Wolverhampton in recent times. FLEURMAN had won at Wolverhampton on February 7th in a time of 3m.44.68s (9st 12lbs), so this was a considerably quicker race.
TPD's Sectional Times can reveal that Tom Queally made the running on EARLOFTHECOTSWOLDS, knocking out eight brisk Furlong Sectionals for the Trip which included mostly 13s Furlongs but also a couple of sub 13s Furlongs very early on. However, having completed the first mile, Tom Queally backed off the gas on EARLOFTHECOTSWOLDS at the beginning of the 2nd Mile, allowing the field to catch him, completing the next four Furlongs in fractions nearer 14s.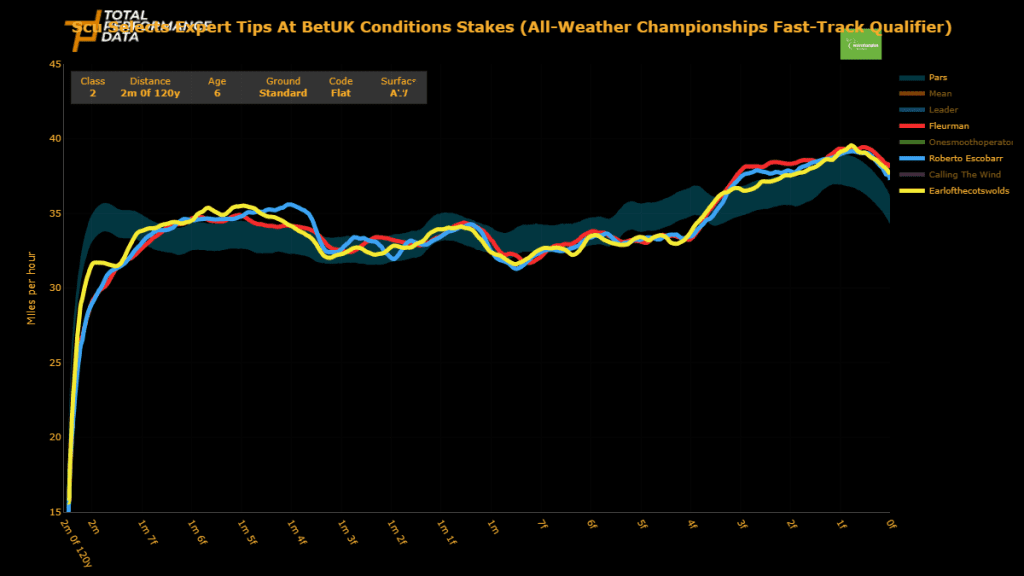 With the field tightly bunched and 4 Furlongs from home, EARLOFTHECOTSWOLDS quickened on the rail he had hugged throughout, before aiming for the center of the track in the home straight to complete the final 4 Furlongs in 12.48s, 11.12s, 11,37s and 11.96s. The field attempted to close the gap, but in a thrilling finish with all 5 runners neck and neck at one point, Tom Queally and EARLOFTHECOTSWOLDS had timed everything perfectly and held on to win this Fast-Track Qualifier.
All data and results can be viewed at: https://www.attheraces.com/racecard/Wolverhampton/11-March-2023/1625