Two weeks ago, TPD's data flagged up FLEURMAN'S performance at Wolverhampton (9st 12lbs) as the TPD Race of the week in a painfully slow time! Well, surprise surprise, FLEURMAN came out again at Newcastle (10st 1lb) on February 22nd under a cool ride from Kevin Stott to land the 2 Mile contest and put himself in contention for the All Weather Championships, again in a time considerably slower than the Racing Post Standard. Clearly FLEURMAN's opponents at Newcastle had not read TPD's blog two weeks ago, which showed FLEURMAN benefitted from the slow first mile, as they crawled again and set the race up perfectly for FLEURMAN.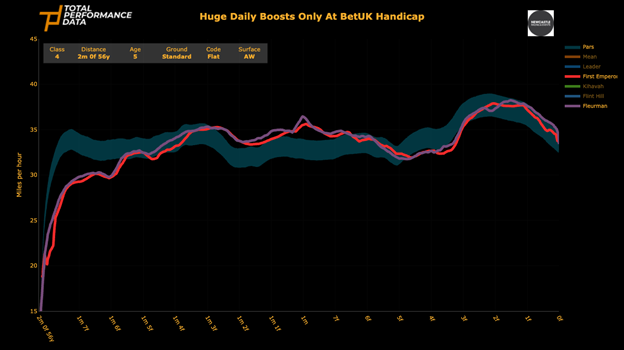 The Final time on Feb 22nd was  3m40.26s, a full 8.26s slower than the Racing Post Standard. Almost as slow as his Wolverhampton performance which he won in 3m44.58s, which was 10.18s slower than the Racing Post Standard. However, how relevant are the Racing Post Standard times? The official definition of the Racing Post Standard Time, compiled by Topspeed, 'should be achievable in a truly run race by a mature horse rated 100 carrying 9 stone on Good going'. The Official Racing Post Standard time at Newcastle for 2m 56 Yards is 3m32.0s. But not all Racehorses are mature or rated 100 or running on Good Ground or carrying 9 Stone.
TPD would like to suggest the Average Official Winning Time (AOWT) for the distance over a recent set period would be more relevant in order to put this performance into perspective.  This is particularly so on the AW, when the surfaces can change with the weather and over a period of time. The AOWT at Newcastle for 2 miles 56 Yards has slowed from 3m36s.71 in 2016 to 3m45.67 in 2023. That is almost a full 9 seconds slower. So although FLEURMAN was 8.26s slower than 'Standard', it may well be that this was a decent performance from the now 86 rated Racehorse, especially when you consider the first mile was run at a snails pace. Indeed the field did not hit 35mph for 74 seconds!
TPD's data reveals that FLEURMAN again used his monster stride of 7.34m with the lowest Stride Frequency in the race to dominate his rivals. His Stride figure data was almost identical to his performance at Wolverhampton. FLEURMAN can increase his Stride Length from 2 Strides per second to 2.25 Strides per Second and sustain it. It will be interesting to see if FLEURMAN's rivals on AW Finals day can find a way to beat this long striding grey son of Mastercraftsman.
Full results and data at: https://www.attheraces.com/racecard/Newcastle/22-February-2023/1555