TPD's timing data this week focuses on the performance of Shadwell's 'RABAAH', who put in an impressive performance at Wolverhampton (18.30) on February 27th and could well be a 'TPD Rising Star'.
RABAAH was third behind the subsequent Group 2 placed 'Show Respect' as a two-year-old on his only start and he built on his impressive January 11th performance (2nd start) at Lingfield, 6f, when powering clear in eye-catching style to take the Wolverhampton Novice. Two different performances on two different tracks on two different surfaces. It is well known how 'Ground' is a key determinant in a Racehorse's performance, so this week TPD's data looks at how different surfaces, even if both artificial surfaces, can change a horse's Stride data and possibly its performance.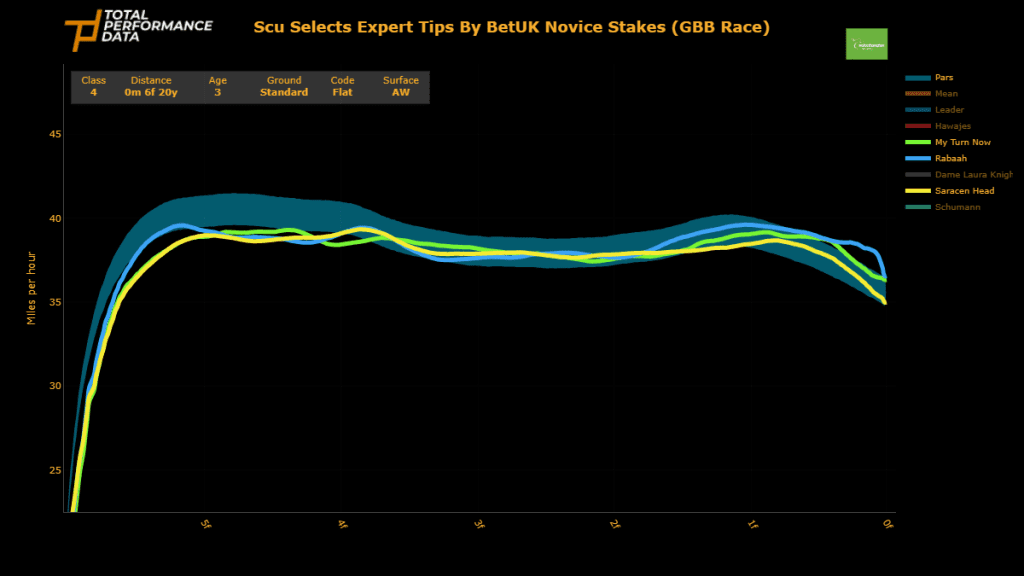 On Wolverhampton's Tapeta Track, the Dubawi colt had a Stride Length of 7.19m (L) and a Stride Frequency (F) of 2.42 Strides per second. This equates to a SLxSF Figure of '38.9'. RABAAH's top speed was 39.9mph. His fastest furlong was 11.26s and his Distance Travelled was 1204.3m. The Official Winning Time was 1m13.35s. Weight Carried 9st 8lbs.
On Lingfield's Polytrack surface, RABAAH interestingly showed a longer Stride Length of 7.35m and a Stride Frequency of 2.44 Strides per Second. This equates to a SLxSF figure of '40.1'. RABAAH's top speed was 41.9mph. His fastest furlong was 10.83s and his Distance Travelled was 1183.1. The winning time was 1m10.66s. Weight carried 9st.
In both performances, RABAHH was an easy winner. It is likely that his longer Stride Length at Lingfield was due to the fact that parts of the track are downhill, rather than the difference in surface composition.  He was also having his first start in 7 months and a month later at Wolverhampton he was more settled and also able to lead. The fact RABAAH carried 8lbs less when he did the quicker time at Lingfield would also be a factor.
In terms of his times on the respective days, the 1m13.35s he posted when winning at Wolverhampton, compared to the Average Official Winning Time recently of 1m12.75s. While RABAAH's Lingfield time of 1m10s.66s was only just behind the Average Winning Time of 1m10s66. Clearly, he won with ease so is one to put in the watch list.
Further analysis of the small details of RABAAH's future performances using TPD's data will tell us how good he could be, but he will not be seen again on the All Weather this Spring. He is clearly highly regarded, so look out for him in some of the main Flat Season's high-profile sprints.
See full results and data at: https://www.attheraces.com/racecard/Wolverhampton/27-February-2023/1830