There was no Dr Jekyll when Jack Hyde went miles clear to win at Newcastle early last week! Owner/Jockey, John Reddington sprang one of the great surprises and hopes his steed will quality for a bumper at Cheltenham. They deserve to.
The speed chart tells the story in MPH. He set a quick but not ridiculous pace for the first 6F, being close to the top 5% of speeds over these conditions. Then, during this brave feat of front running, John Reddington, went for broke in keeping his mount at c.35mph when 32mph would be more normal. In a world of fine margins, that was a huge call. Even our In-Play pricing algo doubted the win when the speed dropped that much!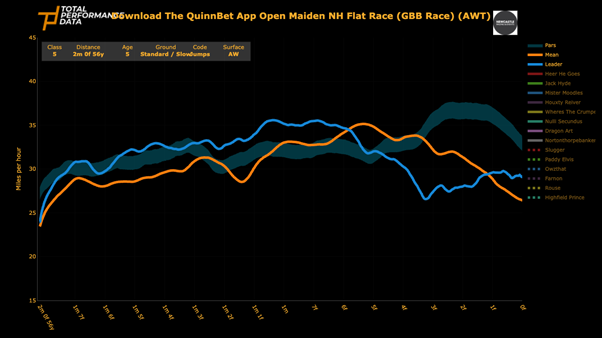 Then, in the final phase of the race as the trailing pack hit the panic button, the jockey and Jack Hyde slowed down so materially to leave enough juice to re-accelerate and win comfortably. Jack Hyde's speed after the line (ROS for Run Out Speed 4s after the line) was the 3rd fastest. Crucial and all to do with having judged the deceleration to perfection. 
If John had slowed down rather less, his chances of winning would have been close to 0. This was an extraordinary performance and a worthy winner of the ride of the week – we rarely see this X speed pattern so close home in these charts.  Bring on his next race – hopefully at Cheltenham in March. 
Glossary of terms at www.tpd.zone/glossary.
See full results & data on: https://www.attheraces.com/racecard/Newcastle/31-January-2023/1250