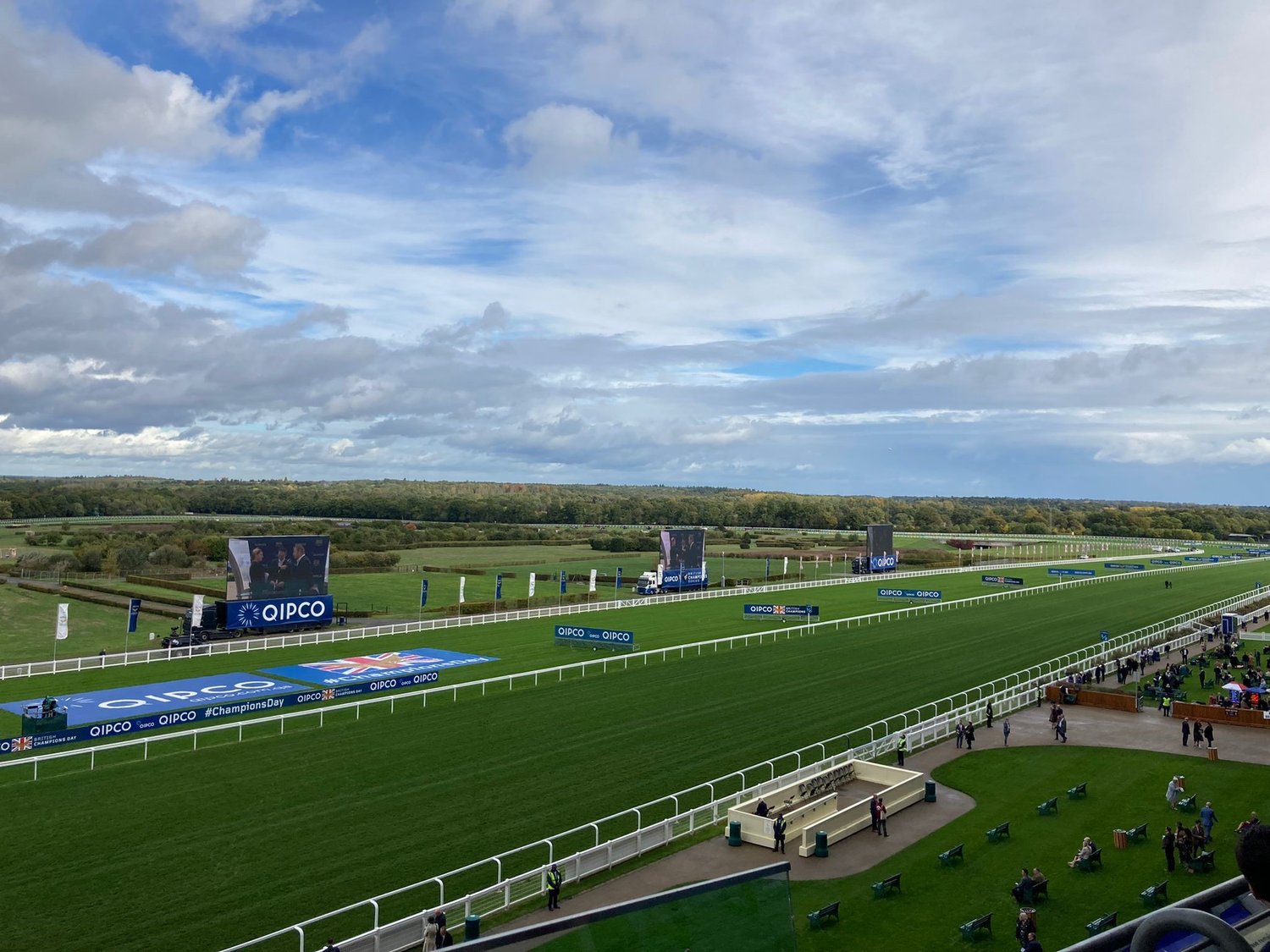 We look back at last weekend's QIPCO Champions Day at Ascot and pick out some of our top performances from the meeting. Total Performance Data's performance metrics intend on providing fans with an insight into a horse's performance from a statistical perspective, while contextualising the race. We aim to use these metrics to allow for deeper analysis into the strengths and weaknesses of specific performances. You can find our glossary below which will provide more information regarding the nature and purpose of these metrics.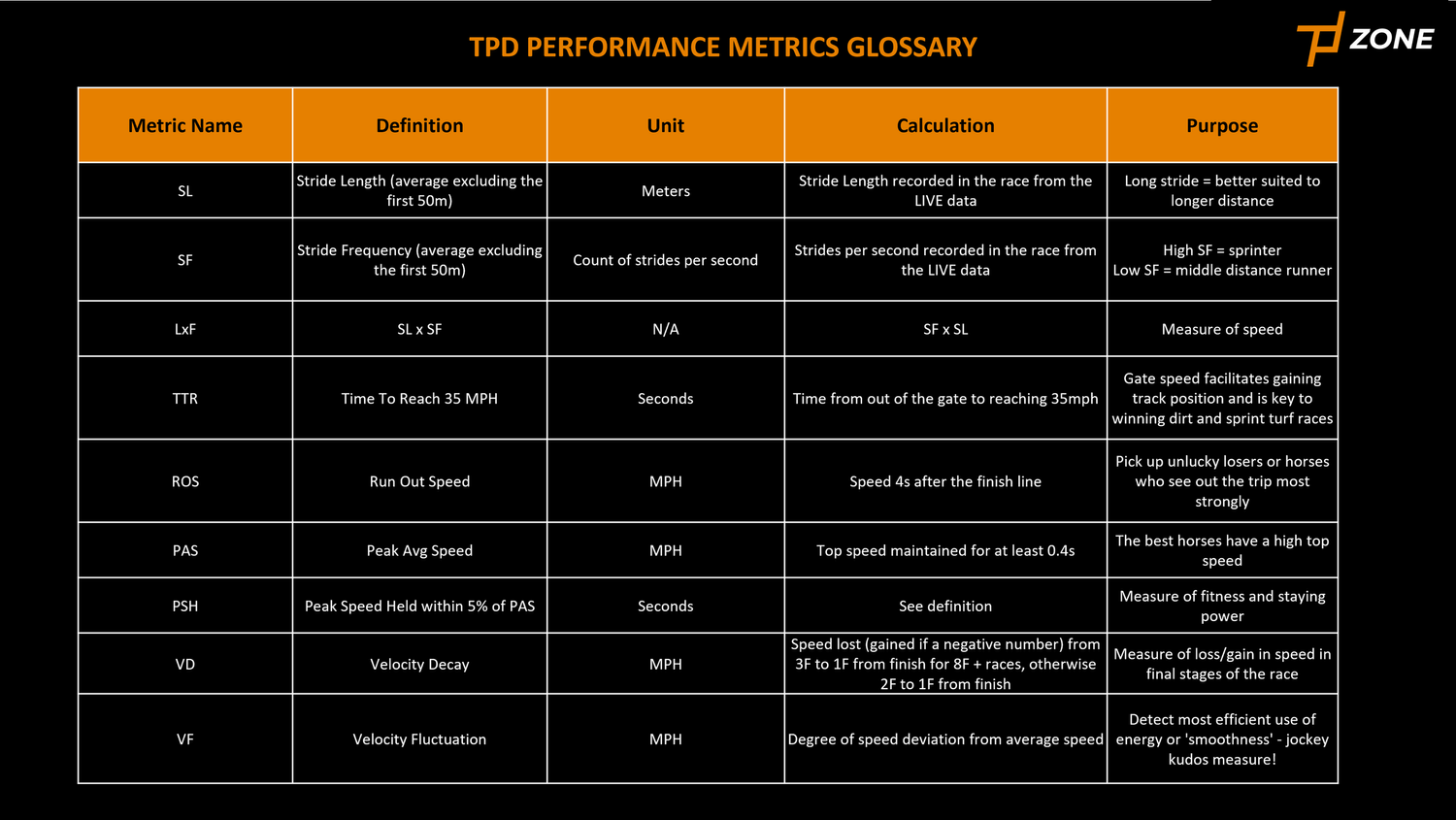 ---
Race: QIPCO British Champions Sprint Stakes
Horse: Run to Freedom
Finish: 2nd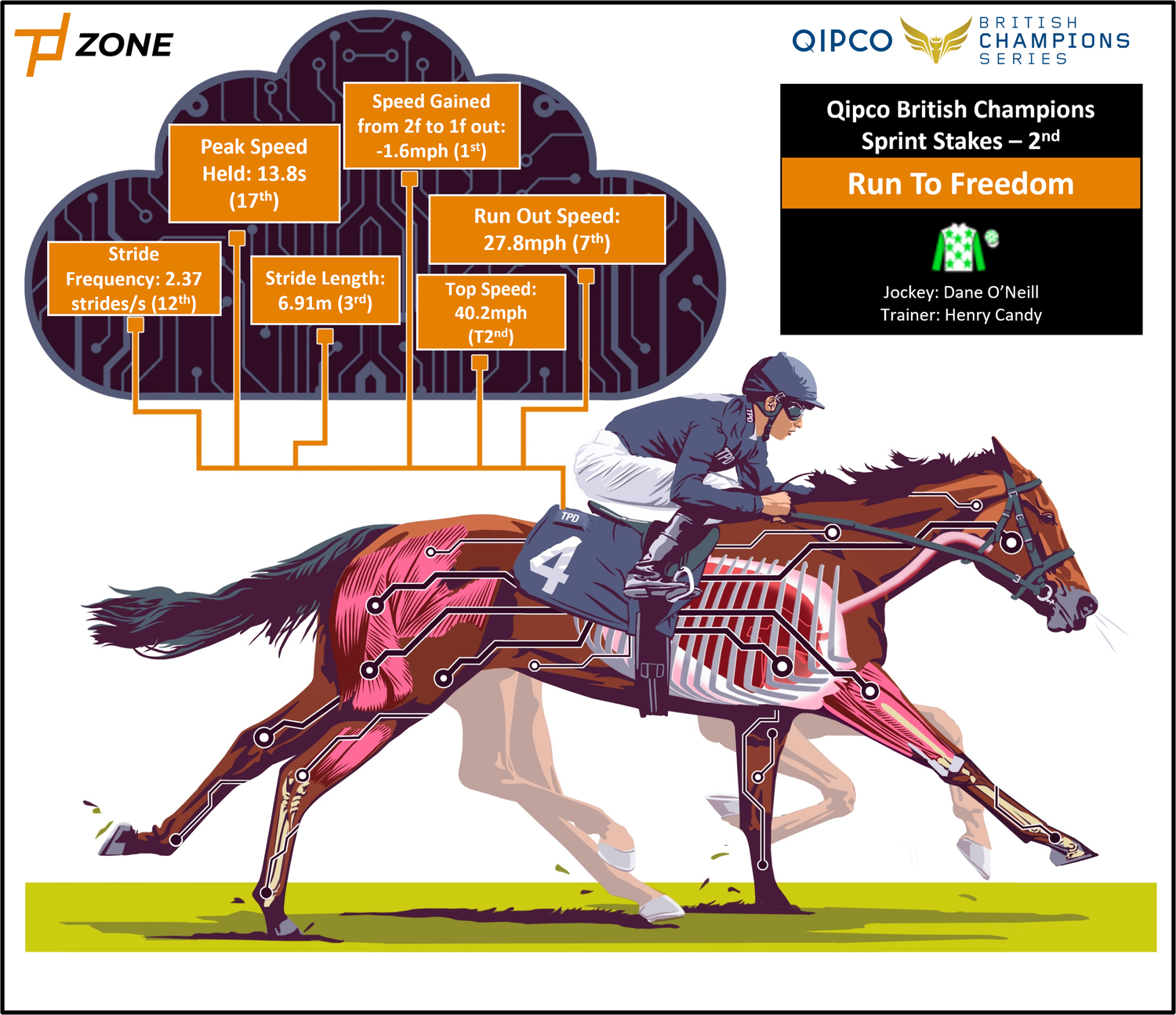 Despite being no match for Kinross, Run To Freedom who had a starting price of 150/1 delivered another impressive performance following his 4th place finish in the John Guest Racing Bengough Stakes earlier in the month. In 9th position at the halfway point, Run To Freedom had some catching up to do and rallied impressively. He ranked T2 in top speed registered (40.2mph) and the Henry Candy trained bay colt showed good late speed as he lost the lowest amount of velocity 2f to 1f out (1.6mph) compared to the other runners (2.96mph lost on average). However, his ranking of 7th in run out speed (speed registered 4 seconds after crossing the finish line) and 17th in peak speed held (duration of time where speed was held within 95% of top speed) suggests minimum trip is his favored distance. We believe the 4-year-old is certainly capable of winning a Group 1 sprint next year, and particularly over the minimum trip.
---
Race: Queen Elizabeth II Stakes
Horse: Bayside Boy
Finish: 1st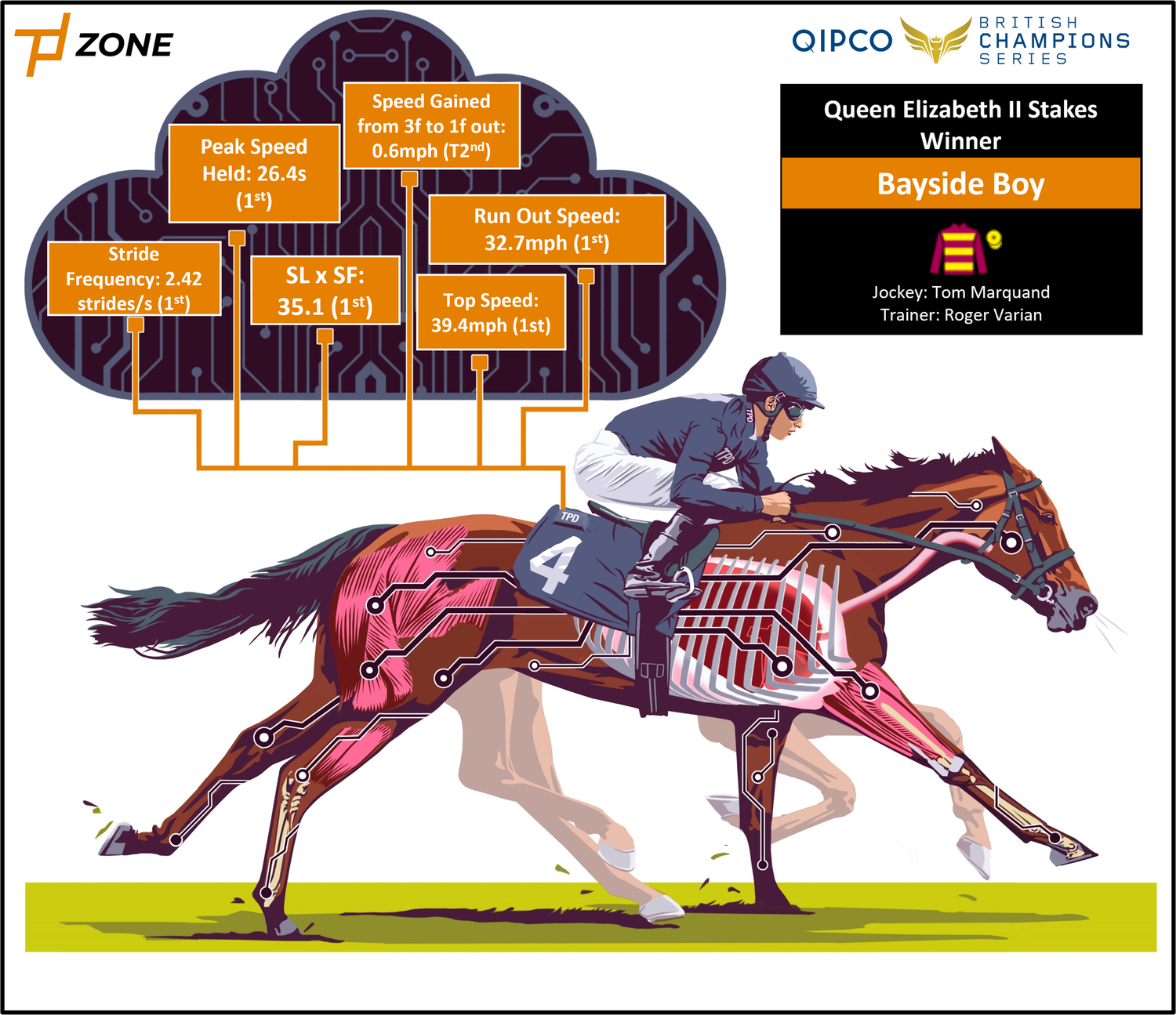 Our standout performance of the meeting came from Bayside Boy, as the Roger Varian trained 3-year-old beat well-fancied 11/10 favourite, Inspiral. The 33/1 priced colt remarkably ranked first in the majority of our performance metrics. Indeed, the Queen Elizabeth II Stakes winner outsprinted his rivals on the day, registering a stride frequency of 2.42 strides/second, the fastest cadence of any runner in the field allowing him to come from behind in a slowly run race. He also reached the highest top speed of any runner (39.4mph), 0.6mph more than the top speed achieved by Inspiral. Despite the fact that Bayside Boy maintained a speed within 5% of his top speed, or peak average speed, for 26.4 seconds (the most of any horse in the race), he still had the energy left for a deciding push in the closing stages and accounted for the best run out speed across all the runners. This is highlighted in the velocity chart below which shows the winner losing less speed than his competitors (purple line), with Modern Games' velocity displayed in yellow and Inspiral's in dotted red. As highlighted by sectionals specialist Simon Rowlands, not only did the run the final 2f in a time 0.73s faster than Kinross had done in the Champions Sprint but also beat Baaeed's record split in the same race from 12 months earlier by 0.13s. Impressive in itself!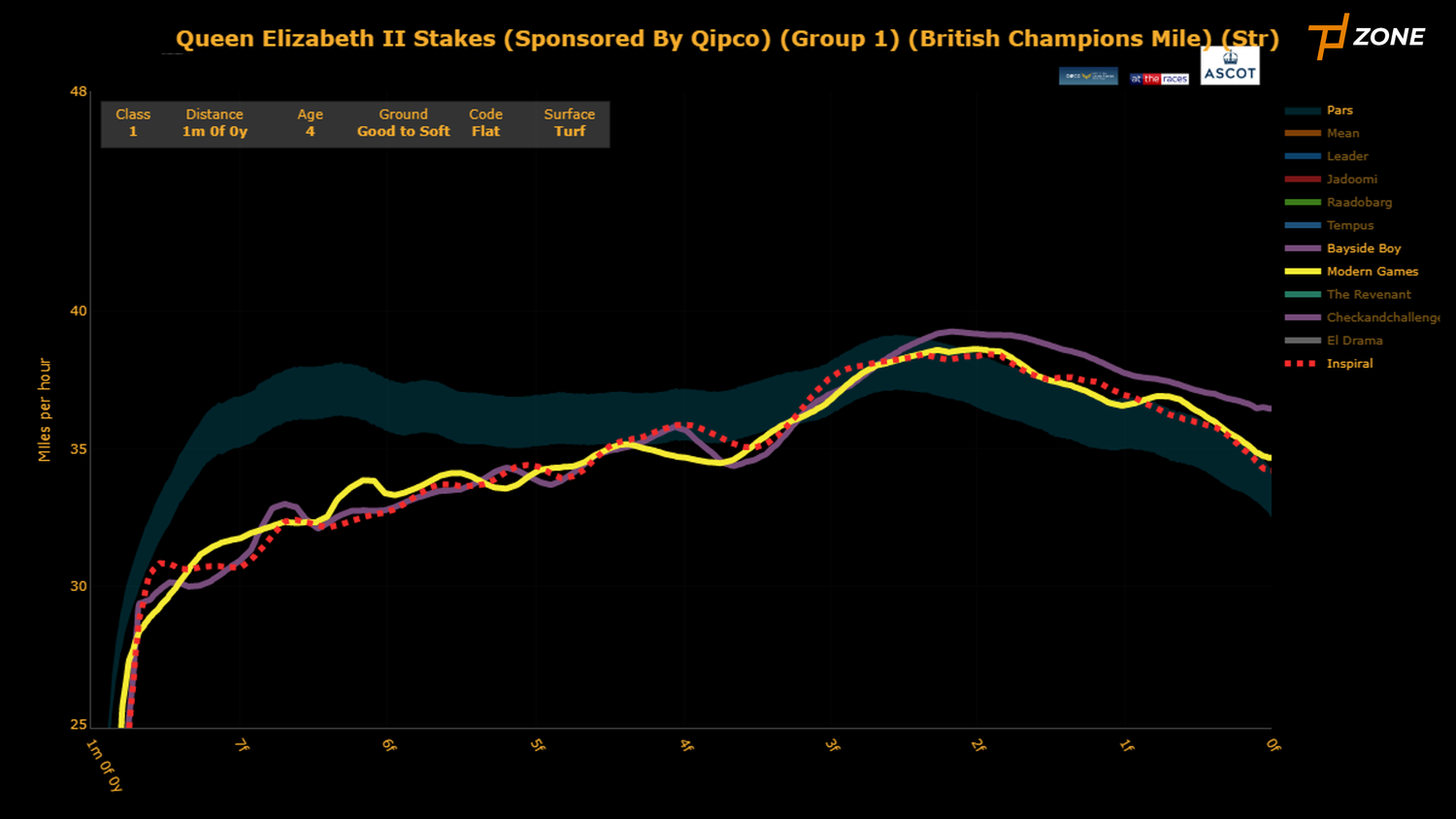 ---
Race: QIPCO Champion Stakes
Horse: Bay Bridge
Finish: 1st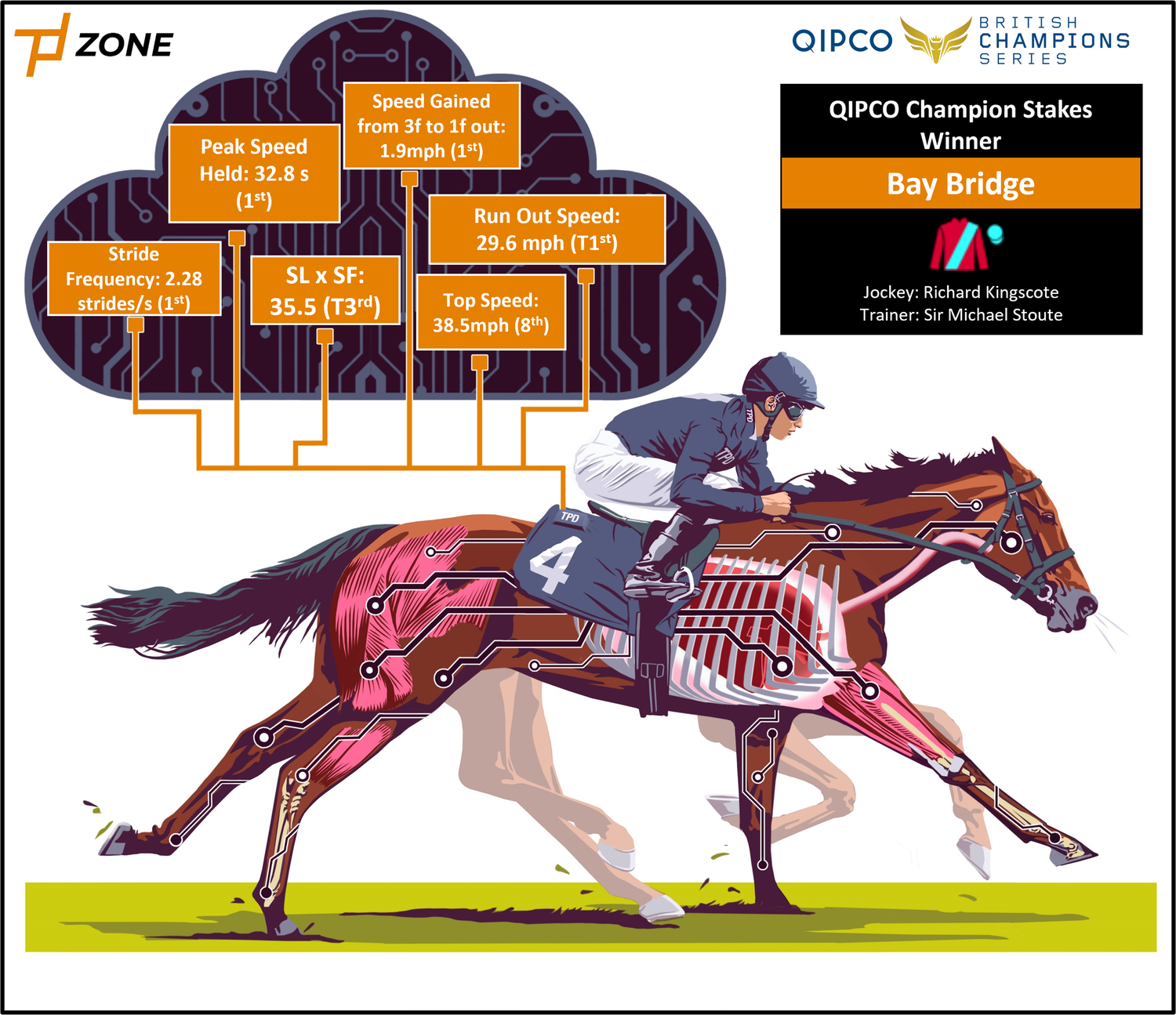 QIPCO Champion Stakes winner Bay Bridge registered his maiden Ascot victory following a strong second place finish in the Prince of Wales's Stakes earlier on this year. All the talk before the race was the highly anticipated showdown between Baaeed and Adayar, but it was the Sir Michael Stoute trained thoroughbred who prevailed. The bay colt showed good stamina and delivered a smooth ride, as he held his peak speed for 32.8 seconds, the longest of any runner in the race. His top speed of 38.5mph ranked 8th in the race, evidence that over this type of distance, a smooth controlled ride proves more effective than inconsistent bursts of pace. Despite a late challenge from Baaeed, Adayar and My Prospero, Bay Bridge showed his superiority with an average of 1.9mph gained in speed from 3f to 1f out and registered the highest run out speed (29.6mph) across all runners. Richard Kingscote undoubtedly deserves credit for the way he managed the race, but Bay Bridge's all-round performance demonstrated that he deserves to be considered a top-class middle-distance runner in the making.
---
Race: Balmoral Handicap
Horse: Safe Voyage
Finish: 4th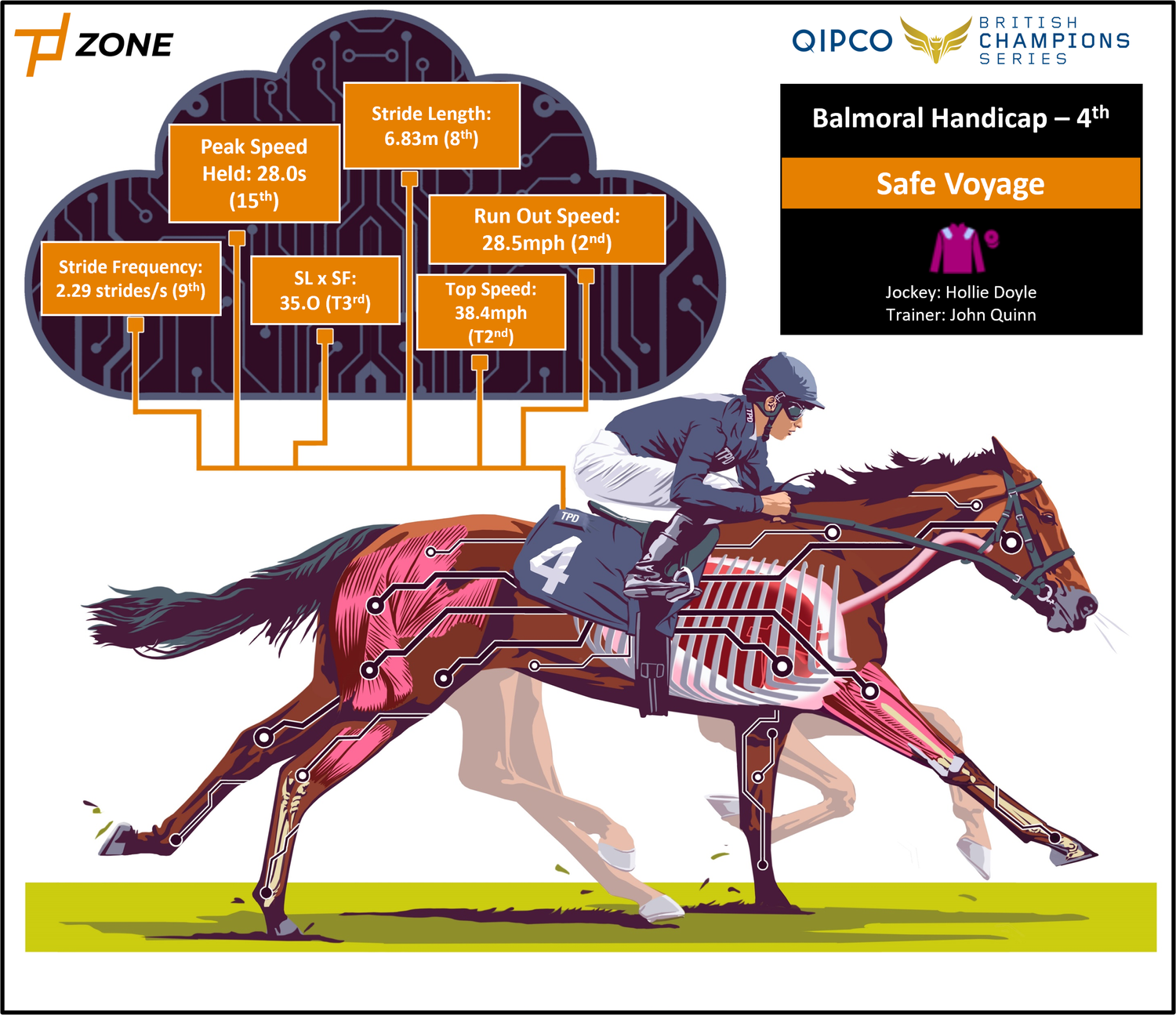 Despite a fourth placed finish, we noted Safe Voyage's impressive run and believe he should have placed higher provided luck was on his side. Indeed, should Hollie have found a gap earlier on in the race, he would have finished a lot closer to the leader, meaning we anticipate the numbers do not truly reflect Safe Voyage's performance. Despite the hinderances, the 28/1 priced gelding matched the winner's top speed of 38.4mph and only Shelir registered a higher run out speed (29.0mph to Safe Voyage's 28.5mph). He wasn't going quite as well as the eventual winner but considering he was sitting in 17th position 2f from the finish, he impressively made up considerable ground in the final stages. The John Quinn trained 9 year old continues to look capable of winning off this sort of mark but considering his age, time may be running out.